When it comes to professional success and stardom, there's not a magical formula. Despite what business gurus and life coaches tell us when attempting to sell a step-by-step recipe for triumph, reality proves them wrong. The elite, the crème de la crème, in the business world is a rich combination of backgrounds, stories, attributes –or lack of –who repeats to us, mortals, the same: "I had a dream."
You can look at billionaires that come from wealthy families, which opened the doors for them; you can analyze CEOs and worldwide entrepreneurs who, with a strike of immense good luck, got to the place they are now. There's no lack of merit in them, but they indeed aren't as inspiring as those who rose from the ground. Like a little boy –the youngest of four siblings –growing up in the Bronx with his Jewish immigrant parents. A boy who will eventually become Ralph Lauren, designer, billionaire, philanthropist, husband, and father.
Following tradition, he attended day school and then attended the Manhattan Talmudical Academy. He graduated from High School in 1957.
When he was 16, Ralph and his brother changed their last names to stop the mockery that had followed them persistently at school.
After two years into college –studying business –he dropped off. From 1962 to 1964, he served in the U.S. Army, after which he took a job at Brooks Brothers –a tie company –where he worked as a sales assistant.
Fashion and style had never been alien subjects for Lauren, who admired Cary Grant and Fred Astaire. He always went with preppy outfits and vintage looks –which later permeated to his collections.
"People ask how a Jewish kid from the Bronx can do preppy clothes? Does it have to do with class and money? It has to do with dreams."
Ralph Lauren
After that, he convinced the company's president to let him start his line. His ties include a wider cut, and he branded them as "Polo."
"Well, what kind of people play polo?" he asks. "Wealthy, cosmopolitan, chic, wealthy. I wanted to create a concept for the name."
Ralph Lauren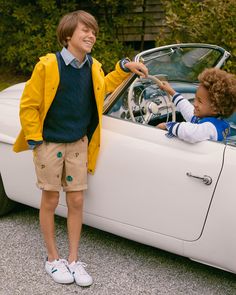 With a $30,000 loan, he expanded his business to men's clothing, and in 1972 he released a short-sleeve cotton shirt. It came in 24 different colors and featured the famous Polo logo.
Success, fame, and insane selling numbers are no sufficient to detractors, who criticized his lack of innovation. But consumers dismissed such reviews and got fascinated with the brand's concept of approachable looks. Who wouldn't like to look a tad like the Great Gatsby in their everyday life? (By the way, Ralph Lauren designed the clothing for the famous movie).
In 1964 he married Ricky Low Beer, a doctor's receptionist who also taught dance. They had three children: Andrew, Dylan, and David. The latter is the only one involved in the family's business.
Ralph Lauren, a rare specimen in today's world, where everyone is looking for a change, believing that different always means good, whether they refer to fashion, a job, their spouse…
Married to the same woman, married to his style and principles, Ralph Lauren has taught us that once you find the one, that one is a keeper. He has also proven that class doesn't have to look like a costume; simple lines and excellent tailoring are enough to make us feel beautiful and fashionable.
And paired with his contribution to the Couture world, goes his philanthropic side. To name a few, Lauren co-founded a Breast Cancer Research in Washington D.C.; he launched a Volunteer Program to motivate and connect employees. He also established an American Heroes Fund following the September 11 attacks to allow his 10,000 Polo employees to participate in the relief effort.
"I hate when people call me philanthropic because I see it as more coming from the heart."
Ralph Lauren
While many looks for the flamboyant, the outlandish, the bizarre, most of us look for high-quality clothes that fit and look nice. Elegance may be a word that has lost weight in the minds of some, but deep underneath all of us, we crave the simple classiness that Ralph Lauren had dreamed of as a little boy.